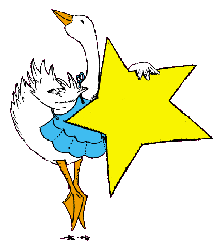 Awards and
Recognitions
"In the course of writing and illustrating"
In the course of writing and illustrating, or illustrating, some 18 books to date,
I have sometimes been singled out or recognized for my work.

The following are some recognitions that have stood out over the years and given me that extra spark
to continue my work.

ALA Notable (American Library Association)

Parents Choice Honor Book


AIA International Book Publishing Award (American Institue of Architects)


Ezra Keats Award for Excellence in the Arts


McAllister Scholar Grant (Highlights Foundation)
---
Some of my books have received:

Pointers from Kirkus

Stars from School Library Journal

Stars from Publisher's Weekly
---
Some have been

Pick of the List from the American Booksellers, or made it onto the


Parent's Magazine Best Children's Books List
Some certificates are just plain fun.

At one point I had spent so much time in Texas, visiting schools and speaking at conferences, that I was given a beautiful, gold embossed, certificate designating me as an "Honorary Texan."

" Then there was the time that I entered, and won, the Chautauqua Poetry Contest; My letter of congratulations came with a warning that, in the future, should I ever decide to enter their contest again, I should read the entry form completely and limit my entry to the required length. They gave me the prize anyway.



To all those reviewers, award committees and panels I say —THANK YOU!

---
E-mail directly to Leslie. Please state if you are a librarian or teacher and share any information that would be helpful to make this page meet your needs.
HOME PAGE | BOOKS PAGE | GALLERY | KIDS PAGE | TEACHERS/LIBRARIANS